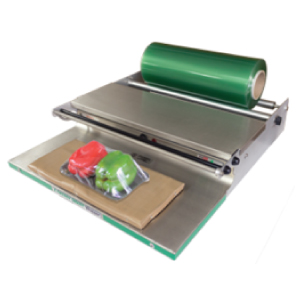 Overwrapper
Heat Seal's stretch film overwrappers are great for quickly packaging fresh items and other food wrap applications. Stretch wrap film is tightly pulled over the product and heat sealed to the bottom of the package for leak resistant packages. Overwrapping is used to extend shelf life, keep perishables fresh, provide a visual of the product, reduce packaging cost, group products together, provide easily opened packages, and tamper evidence.
The new Energy Smart® Wrapper is proven to significantly reduce energy costs by 80% compared to traditional overwrappers, and all Heat Seal products are NSF certified for cleanliness.
WE'RE HOME GROWN:
Heat Seal products are made in the USA.
WE CARE:
Smoking film is harmful. Heat Seal has taken extensive measures to insure safe temperatures on both the film cutting rod and seal plate to limit exposure to hazardous smoke.
WE'RE CREATING CONVENIENCE:
Film sticks to vinyl bar making it easy to pick up and begin working. We offer a 1 year parts warranty.
WE'RE CONSISTENT:
We strive to create dependable products. Our film cutting rod is uniform and holds a consistent temperature. We've been in business in Cleveland, Ohio since 1950.
Table Top Stretch Wrapper
Table top stretch wrappers are most commonly used in food service industries to stretch wrap packages of fresh meat, dairy and produce on to trays, floor model stretch overwrappers are also available. Overwrap machines can also be used for a variety of other packaging purposes such as soup containers, gift sets, candy boxes, and more.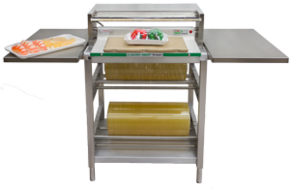 Whats next?
If you are ready to take the next step and take advantage of your energy company's incentives, contact ESTOAI to see how we can help your location reduce its energy usage.