---
We use a combination of destratification fans, infrared heaters, LED lighting, and more to reduce your monthly bill. Almost all of our products qualify for rebates from your utility provider, and we will work with you one on one to ensure you get all available rebates by using our knowledge as a DTE and Consumers Energy trade ally.
Click on any of the images below for more details about the products offered by 

Energy Saving Technologies of America Inc.
---
AirRow Destratification Fans are the new standard in HVAC. Installing these fans can reduce the energy consumption of an existing HVAC system by 25% or more.
Infrared heaters generate energy that is converted into heat when absorbed by  floors, people and objects.  This energy is then re-radiated to warm the surrounding areas by convection.
We carry a vast selection of high quality, dependable LED Lighting with at least a 5 year warranty. LED Lighting uses less energy, produces better quality of light, reduces maintenance costs, and increases product performance.
Open air cases are some of the biggest energy consumers in supermarkets, adding energy free retrofit glass doors to your existing open air cases can reduce energy use by up to 70%.
Our Thermal Energy Storage System makes it possible for cold storage facilities to protect what is vital while intelligently storing and deploying refrigeration to reduce energy costs up to 35%.
Stretch film overwrappers are great for quickly packaging fresh items and other food wrap applications. Stretch wrap film is tightly pulled over the product and heat sealed to the bottom of the package for leak resistant packages.
Marathon brand Electronically Commutated Motors provide superior energy savings when used to replace Shaded Pole and PSC Motors. Available for cases, as well as larger walk in coolers and freezers evaporators and condensing units.
Night Shield Curtains have long been recognized as the premier case covers. Often copied, but not matched for its material type and design qualities.
Case Study: Save-A-Lot Food Stores
As a group, grocery stores have the highest electrical consumption of all commercial buildings, averaging more than $5 of electricity and $.38 of natural gas per square foot a year. Refrigeration alone accounts for more than 50% of electrical consumption in grocery stores, whereas it represents just 4% of consumption in the average commercial property.
For this project, the owner took advantage of DTE Energy's Independent Grocer's Special Incentive Program, which paid him more than $5,300 in incentives, and resulted in more than $7,000 in annual cost savings using products sold by ESTOAI.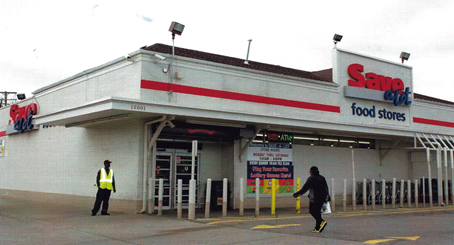 ---
" It used to take four hours for my store to recover from night set-backs. Now with Air-Row fans it takes my store 30 minutes to recover"
- Store Manager
---
"Customers have been complaining for years about the cold temperatures and have stated they would just run through and grab what they need. Now they take their time and browse my aisles."
- Dairy Clerk
Whats next?
If you are ready to take the next step and take advantage of your energy company's incentives, contact ESTOAI to see how we can help your location reduce its energy usage.